Réinventer la tradition. Alexandre Stourdza et l'Europe de la Sainte-Alliance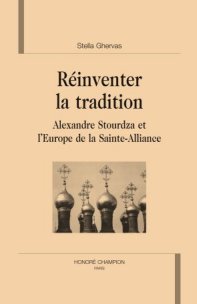 My first large work (Paris, 2008), depicts the crucial era when the Great Powers laid the foundations of the Concert of Europe that was to dominate much of international politics during the nineteenth century. It devotes particular attention to the diplomatic and intellectual milieu of the Congress of Vienna, as seen from Russia and Southeastern Europe.
Note
An English version is under contract with Cambridge University Press for publication as Enlightenment and Tradition in Post-Napoleonic Europe: The Worlds of Alexander Sturdza.
Awards
Prix Guizot de l'Académie française 2009
Prix Alexandru D. Xenopol de l'Académie roumaine 2010
Nominé pour le Grand Prix d'Histoire Chateaubriand 2009
Prix et Diplôme de mérite de l'Académie des Sciences de Moldavie 2009
Book Information
French Edition
Editions Honoré Champion, Paris 2008
624 pages
ISBN 9782745316691
Romanian Edition:
Reinventarea tradiţiei: Alexandru Sturdza şi Europa Sfintei Alianţe
Cartier istoric, Chisinau, 2014
ISBN 9879975798776
Romanian translation by Gabriela and Alexandru Şiclovan.
Order Online
French Edition
Honoré Champion (France) Amazon (US) Amazon (UK)
Table of Contents
Le parcours d'un intellectuel diplomate - Les racines familiales; L'entrée dans les services diplomatiques; Dans les cercles littéraires de Saint-Pétersbourg; Une première mission dans les Balkans; Au service de la Sainte-Alliance; L'appel des causes grecque et roumaine; Un intellectuel enfin indépendant.

Un humaniste «oriental» face aux Lumières - Les Lumières vues de l'Est; La formation intellectuelle d'Alexandre Stourdza; Un anti-Montesquieu: L'Essai sur les lois fondamentales de la société; Stourdza face à Rousseau.

Sur la scène européenne - Au service de la Sainte-Alliance; Les Considérations sur la doctrine et l'esprit de l'Église orthodoxe; Le Mémoire sur l'état actuel de l'Allemagne; De la Sainte-Alliance à la question d'Orient.

L'attrait du mysticisme - Les racines mystiques de la Sainte-Alliance; Roxandre Stourdza au coeur d'un réseau d'influence; Alexandre Stourdza face à l'héritage intellectuel des mystiques.

Stourdza théocrate: pour et contre Joseph de Maistre - Stourdza et Maistre face à la Révolution; Controverses autour de l'Église orthodoxe; Des positions divergentes à propos de la Russie.

Un philhellénisme d'inspiration conservatrice - Stourdza, Capodistrias et la renaissance de la Grèce; Stourdza face à l'Hétairie politique; Les sympathies philhellènes en Russie et en Europe; Stourdza, avocat conservateur de l'insurrection; L'indépendance grecque comme partie de la question d'Orient.

Le philosophe de l'orthodoxie - Le «monde orthodoxe»: caractéristiques d'un espace imaginaire; Stourdza, missionnaire du «Réveil» orthodoxe; Stourdza penseur religieux; Le philosophe de la Tradition.

Idéaux et petites ambitions: Stourdza homme de lettres - Un précurseur des slavophiles? Stourdza et les lumières d'Odessa; À la recherche d'interlocuteurs occidentaux; Ultimes impressions de voyage.